What is Self Driving Cars?
Self Driving Cars are basically Cars that use a combination of sensors, cameras, radar and artificial intelligence to travel to a location without a human operating it and controlling (most of our modern cars are not self driving cars and so they need a human operating it and controlling it in order for it travel around). If you want more information here is a YouTube video that might help you.
Levels of autonomy in self-driving cars
There are 6 levels in how Self Driving cars are graded.
Level 0: The human driver must do everything car does not work without a driver functioning it
Level 1: The human driver does all the steering, breaking, and accelerating, but there is cameras and functions that make it easier for the driver to drive.
Level 2: The car can steer and break automatically but, the driver must be aware at all times and act a driver.
Level 3: The car can preform all driving tasks under certain circumstances, for example, parking the car. Driving must always be alert can be ready to take over.
Level 4: Car is able to preform all the driving tasks in most of the conditions. In certain situations and conditions the driver may be asked to drive but it is very unlikely. It is OK for the driver to not pay attention  but, is asked to
Level 5: Car is virtual chauffeur and does all of the driving the owner is asked for. It drives in all of the conditions safely and has no trouble driving around. Driver can not pay attention is wanted to.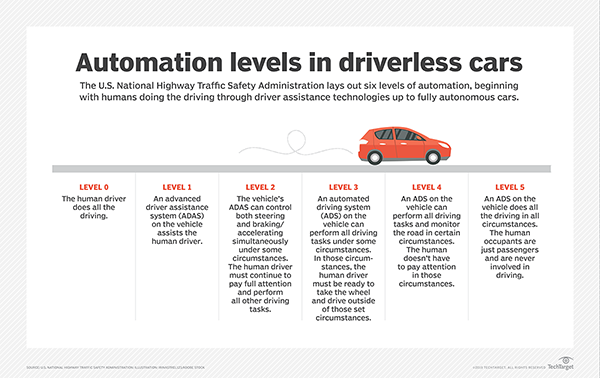 These are the levels of how a self – driving cars are rated in modern day.
Social Imapct
Now that we know how self-driving technology work, lets talk about how it will impact our society if we implement them. Firstly, Self-Driving cars will reduce car accidents immensely. 190 billion dollars will be saved for health insurance globally from car accidents. It will also open up free time for car owners as they can spend their car time doing other activities rather than driving. However, self-driving cars will also impact the society negatively such as it will make the community lazier and it will make drivers forget their driving skills from the lack of practice. There are pros and cons in self-driving cars. Saying that it is good or bad on the society depends on the person you might ask.
https://www.fastcompany.com/3043305/how-self-driving-cars-will-change-the-economy-and-society
https://www.technology.org/2017/08/03/the-positive-social-and-environmental-impact-of-self-driving-cars/
https://searchenterpriseai.techtarget.com/definition/driverless-car